Welcome to Country Quilterie!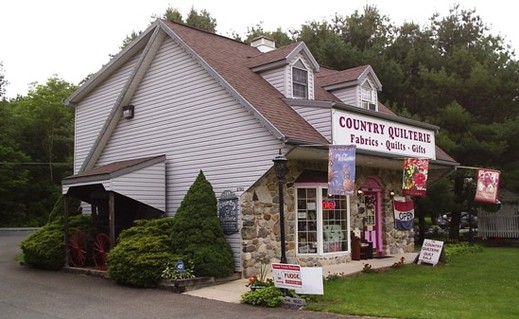 Welcome to Country Quilterie at 2783 Route 115, Effort, PA 18330 (located at Carriage House Square, which is featured in "Rural By Design" reference book, by Randall Arendt, renowned author and lecturer as one of only seventy sites in the entire United States and Canada for it's unique and interesting site design, and use of green space). The Country Quilterie is the largest fabric and quilt shop in the Pocono Mountains, featuring a huge selection of first quality, 100% cotton fabrics from all the leading manufacturers and designers at discount prices plus, our Long-arm Quilting Service at just one and one quarter cents per inch! (Quilting a 45" x 60" quilt top is just $33.75.
​We also offer an expert binding service. Our prices start at $33.75 (one and one-quarter cents per inch) for machine quilting a 45" x 60" quilt top, and binding starts at $21.00 for a 45" x 60" quilt top. We offer the finest quality, lowest price and fastest turnaround and we stand behind everything we sell.

Opened in 1989, The Country Quilterie's mission is the same now as it was then:

1. TO OFFER THE FINEST PRODUCTS AT THE LOWEST PRICES.

2. TO LET OUR CUSTOMERS KNOW HOW IMPORTANT THEY ARE TO US by the warm and cheerful greeting they receive when they arrive, the highest level of customer service and satisfaction we provide during their visit, and the extra nice person discount each of our valued customers receives at checkout, with our sincere thanks for their business.
---
Our Products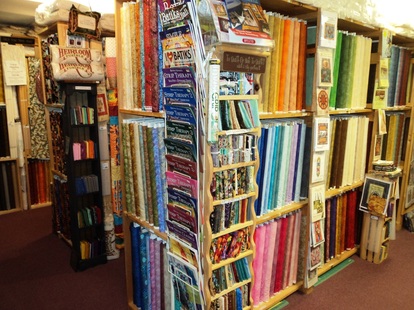 Fabrics - Visit Country Quilterie for a huge selection of first quality 44"/45" wide, 100% cotton fabrics - including batiks, blenders, flannels, novelty fabrics including sports, hobbies and professions, transportation (trains, planes, automobiles, motorcycles, RVs, etc.), Southwest, patriotic, reproduction, wildlife, baby and juvenile, holiday and seasonal, dogs, cats, horses, bugs, birds and butterflies, Asian, African-American, Native American, landscape, coastal and wine country, food, florals, fun, nostalgic and out of print fabrics, plus many more, at DISCOUNT PRICES!

Our fabrics come from all the leading manufacturers and designers, including Robert Kaufman, Timeless Treasures, Hoffman, Northcott, Marcus Brothers, P&B Textiles, South Seas, Benartex, Andover, Blank Textiles, Elizabeth's Studio, RJR, Lakehouse, Quilting Treasures, Fabri-Quilt, Windham, Henry Glass, Blue Hill, Clothworks, Classic Cottons, David Textiles, Fabric Traditions, Kona Bay, Maywood Studios, Michael Miller, Springs, Cranston Village/VIP, and Indo-US, Moda, to name a few.

We also have a large selection of 108" Wide Quilt Backings, in 100% cotton and flannels, in neutrals and many beautiful colors.

Country Quilterie also offers a large selection of pre-cuts and Fat Quarters (a fat quarter is a pre-cut 18" x 22" piece of fabric) throughout our store. We are happy to cut fat quarters of any of our fabrics for you, and we do not have a minimum cut on any of our fabrics!

Our Clearance Department has hundreds of bolts of first quality cotton quilting fabric at 40% to 70% below regular retail prices. We also have a large selection of hard to find and out-of-print fabrics.

Quilting Books, Patterns, & Notions - We have a huge inventory of the latest and best-selling books and patterns, with over 450 books and over 300 patterns. Our Notions Department offers a large selection of rulers and templates, thread, batting, and other quilting notions, and all are at discount prices.

The Quilters Bakery: A Unique "Bakery" just for quilters, inside our store, featuring the largest selection of pre-cuts, including Jelly Rolls, Layer Cakes, Honey Buns, Turnovers, Sugar Cookies, Charm Squares, Mini-Charm Squares, Fat Quarters, Six Packs and more! you will drool over these delicious pre-cuts and luscious colors, and best of all, they have zero calories. The Quilters Bakery is stocked with a huge selection of books, patterns and notions for using these fabulous pre-cuts. Stop by the Quilters Bakery, during your next visit to the Country Quilterie. See photo, below.
---

Country Quilterie carries a large selection of Gifts & Decorative Accessories for quilters, including quilt holders and hangers, license plate frames, quilt signs, quilt-themed jewelry, quilter's tote bags, and quilter's perpetual calendars. Not sure what to get for the quilter in your life? Our Gift Certificates, available in any denomination and with no expiration date, make the perfect gift!

Our Home Decor Department features handmade quilts, quilted wallhangings, tabletoppers, placemats and runners, decorative pillows, valances, and pillow shams, plaques and signs, plus beautiful porcelain dolls, all at 40% off retail prices.
| | |
| --- | --- |
| Antique Featherweight Sewing Machines in beautiful condition, with the original carrying case, manual, and accessories are available for sale at The Country Quilterie. These are the original Singer #221 Featherweights, including the coveted Centennial and white models. The 221 Featherweight is the most collectible antique sewing machine in the world and we currently have four in stock, all with warranties, and layaway plans available. | |
Custom Services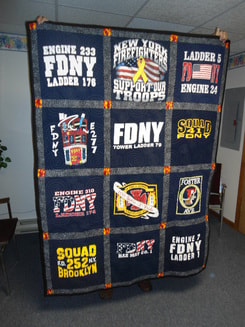 Custom-Made Fusebox Cover
Country Quilterie offers custom services for your convenience as well:Custom-Made Quilts & Accessories - Beautiful hand-quilted wallhangings, tablerunners and placemats, fuse-box covers, valances, baby and juvenile quilts, throw, twin, full, queen, and king-size quilts, can be made to order on the premises, in your choice of fabrics and patterns from our vast selection.

Memory Quilts are made from transferring wedding or other special photos, invitations, etc., onto fabric (this does not harm your photos) and adding your fabric choices to make a special quilt or wallhanging. We also make T-Shirt Quilts from your favorite tees, and Theme Quilts, in every sports, hobby, profession and military, religious, ethnic, as well as Southwest, Native American, beach & coastal, civil war and reproduction quilts, plus, we also offer expert quilt repairs and quilt restoration. Special Orders - Looking for a specific book, pattern, or notion? Perhaps it's something you saw in a magazine or at a quilt show. We will order it for you, and of course you'll get the nice person discount! We'll even ship it to you if you can't stop by to pick it up.

Want to browse through an online catalog of thousands of books, patterns, notions, and gifts? Visit Checker Distributors (www.checkerdist.com), our wholesale vendor, write down your order selections and call, email, or visit our store to place your order and receive our low discounted prices. (Checker Distributors does not accept orders directly from retail customers.)

Long Arm Quilting is another service offered by the Country Quilterie with the highest quality quilting by an expert master quilter, plus the best pricing and fastest service in the area. Prices start as low as one and one-quarter cents per inch ( $33.75 for a 45" x 60" quilt top, edge-to-edge quilting), and an expert binding service, for just ten cents per inch. ($21.00 for a 45" x 60" quilt.) Our Quilting Academy offers small classes (six students maximum) for all skill levels (beginner, intermediate, and advanced), and are taught by our friendly and expert quilting teachers, with plenty of personal instruction. Visit the Quilting Classes section of this website for up to the minute class schedules, project photos and descriptions, plus information about our teaching staff and free quilting tips. Go to the Quilting Classes page of this website for complete class information.
---
Visit carolinaquiltworks.com - our new online fabric & quilt shop to purchase our huge inventory of 100% cotton, first quality fabrics and quilts at discount prices, and free shipping offer.
Navigating Our Website
To navigate through our website, just click on the tabs at the top of the page under the sunflowers! Each tab will bring you to a new page.

About Us - Click on this tab to meet our staff and then watch our Slide Show to explore The Country Quilterie inside and out, including views of the grounds of Carriage House Square, our picnic areas and deck overlooking the scenic Pohopoco Creek, and our fabrics and notions departments.

Quilting Classes - Click this tab to tour the Quilting Academy, our classrooms, meet our teachers, and see the current class schedule with photos and descriptions of each class. See students displaying the great projects they've made in the Sew & Tell section of this page.

News & Information - Click on this tab to learn about current and upcoming sales and events, get the month's free pattern and free quilting tip, and see our newest fabrics, books, patterns, and notions. Sign up on this page to get email notification of our sales and other news!

Custom Quilting Service- Click this tab for photos and information about our custom quilting service, by an expert Master Quilter, patterns, pricing, and our order form, plus point-to-point driving directions, store hours, and days of operation throughout the year.

Shop Online - Click on this tab to access our brand new online store, Carolina Quiltworks! Shop our huge selection of 100% cotton quilting fabrics at discount prices in the comfort of your own home!
---
Payment Accepted

The Country Quilterie accepts all major credit cards (Visa, MasterCard, Discover, and American Express) and all debit cards. Sorry, we do not accept personal checks.
---
---
How to Contact The Country Quilterie
In Person
- Our address is 2783 Route 115, Effort, PA 18330. See our Hours & Directions section of this website for directions.
By Phone
- 570-620-9707
By Email
-
cqfabrics@gmail.com
WE ARE OPEN SIX DAYS A WEEK - TUESDAY THROUGH SUNDAY, (CLOSED MONDAY)**Winter Hours (Jan. 2nd to April 30th): Tuesday through Friday, 10:30 AM to 4:30 PM
Saturday, 10:00 AM to 5:00 PM and Sunday, 12:00 PM to 5:00 PM (Closed Monday)

*Regular Hours (May 1st to December 22nd*): Tuesday through Saturday, 10:00 AM to 5:00 PM and Sunday, 12:00 PM to 5:00 PM (Closed Monday)

*Closed - December 23rd through January 1st for vacation, and Thanksgiving Day and Easter Sunday. (Closed at 3:00 PM on December 24th.)

A visit to our shop is like a walk through your favorite quilting magazine - come see!
---
Shop Online at The CAROLINA QUILTWORKS NEW AND IMPROVED WEBSITE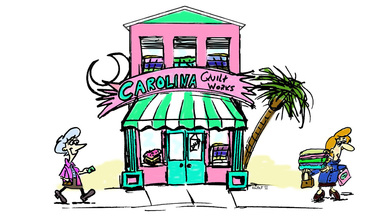 If you can't visit Country Quilterie in person, you can now purchase our fabrics online from the comfort of your home by visiting our virtual fabric store:


www.carolinaquiltworks.com

You'll get the same great selection, quality, and discount prices, 24/7, from our secure website. Like The Country Quilterie, The Carolina Quiltworks has thousands of the latest first quality, 100% cotton quilting fabrics by the leading designers and manufacturers, plus patterns, books, and our own hand-crafted quilts, made on our premises, in the Pocono Mountains of Pennsylvania.

We offer safe and secure order processing, with Visa, MC, Discover and American Express, or PayPal, plus fast, low-cost shipping. Orders over $100 and Patterns, ship free!


WWW. carolinaquiltworks.com


---
---